HGV Driving Lessons: Rigid and Artic
Alexandra School of Motoring was the first driving school to introduce HGV driver training into Ireland. We offer training in both Rigid and Articulated trucks.  Our years of experience and qualified ADI Instructors provide expert tuition so that  learner permit holders gain their full licences easily and quickly and in todays economic climate – cost effectively. Our courses equip trainees with the knowledge and skills required to become a competent driver in the transport industry both nationally and internationally.
Our courses include:
Introduction to course
Introduction to vehicle
Safety Checks
Driving
Eco Driving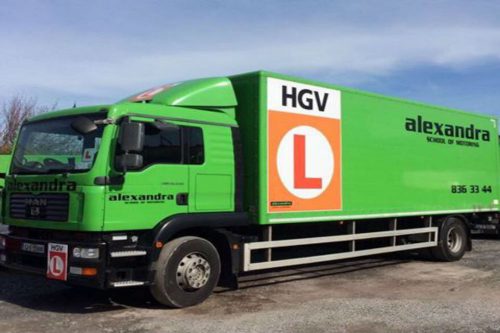 We recommend all trainees take a driving lesson assessment. During the lesson our instructor will evaluate your current driving skills, relevant experience and establish training needs, then provide training recommendations and quote you based on those findings.
Call us today on 01 836 3344 to book a lesson!
Office Hours:
Sunday Closed
Monday:        8:30AM–5:30PM
Tuesday:        8:30AM–5:30PM
Wednesday:  8:30AM–5:30PM
Thursday:      8:30AM–5:30PM
Friday:           8:30AM–5:30PM
Saturday:      8:30AM–5:30PM